Got an innovative idea ?
We can help you to Develop Your Ideas into amazing products.
Web portal development is a highly complex activity. It requires a very high level of technical expertise. If you require the best web portal development services, then you need to contact our experts who have proficiency in all aspects of web portal development.
Directory Portal

Vertical Portal Solutions

Travel Portal

Social Networking

Self-service portal

News Portal

Market space Portal

Learning Management

Job Portal

Real Estate Portal

Hotel Booking Portal

Enterprise Portal

E- Learning Portal

E-Commerce Portal

Corporate Portal

Auction Portals
For the most reliable portal development services contact us:
Our experts are well versed with all the minute details of portal development. Whether it is GUI design or DB planning or architecture design or coding or middle tier integration are professional and highly qualified developers have proven expertise in every aspect of web portal development.
We know very well that web portal development is brand development. When you approach us for portal development our web developers will make use of latest web strategies to develop a web portal which suits your requirements. Our developers have developed portals which have interactive tools like blog community, real time chat, videos, forums etc. Our developers have developed portals that are user friendly and have functions and features that are as per the requirements of the customer.
We are one of the best portal development company in Noida that has worked on multiple projects Companies these days need web portals to streamline interactions with customers, employees as well as business partners. A web portal is also one of the most effective tools to create an impression on your target audiences and customers. Our developers will develop portals that are interactive, informative and which help you carry out business transactions with ease.
We can develop portals that are not just platforms to connect with clients, partners and co workers, but a means of increasing the productivity of your business. Our developers have expertise in cloud collaboration platforms which are secure. We make use of the latest technology to develop portals that are easy to use, productive and safe.
When you approach us for portal development we will first understand all details about your business. We will first figure out the technical requirements that you have and then design a portal that suits your needs. You can approach us for internet and intranet portals, corporate portals, online communities, enterprise portals, portals that are specifically targeted to a particular industry. We can also help you in the integration of third party software in your portal. We can customise the application based on the specific trade requirements. For all types of portal administration and support services you can get in touch with us. We have technical expertise in web server platforms and application server platforms, database servers, operating systems, interface designing etc.
A professional company needs a good web portal. For all your web portal development requirements you can get in touch with our experts.
Contact Us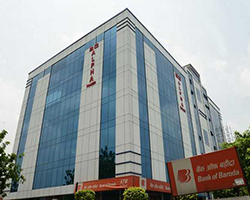 By Phone
+91 120 4109397
Head Office
(India)
SNT Infotech Pvt. Ltd.
101, 1st Floor, SG Alpha Tower Sector-9, Vasundhara, Ghaziabad (U.P) Near Sector 63, Noida 201301