SNT Infotech as a full-service internet marketing agency, understands every businesses (even starts up, medium, enterprise, and Brand) needs and deliver the landing pages design services to meet their requirements (to increase revenues).
You THINK + Our DESIGN = More CONVERSIONS
Conversions are more important than page views and landing page is the very first page your visitors come and decide the actions (either leave or turn into customer).
We make the second one (turn visitors into conversions).
What is Landing Page?
Landing Page = Where visitors arrive at your business page the very first time through the advertisement (Search Ads, Facebook Ads, Display Ads, etc) which you are running (objectives of landing page may different according to business needs).
What are the differences between Landing Page and Website Page?
We are not going to write a definition in lots of words because you can get from the other sources. We are giving you the exact meaning which is in very lucid manner and understandable.
The differences between Landing Page and Website Page
Website Page
It is generally used for SEO or ranking purpose (however, it can be used as a landing page as well).

Purpose:

To get higher ranking or increase visibilities.
Landing Page
It is used only for conversions or business goals

Purpose:

To push visitors to take action and complete the task which have been intended for them( which could be filling up a form, clicking a button or calling you).
This is how simple isn't it? So, now let's move on how landing page works.
How does landing page works?
When it comes to landing page design, it is easy to design but very hard to make it convert (visitors into customers).
To understand in a better way –see the following scientifically valid landing page results:
The basic formula we use in our approach is as below:
Product or Service Oriented Landing Page + High CTR = More Conversions
As per industry experts, CTR is the first and foremost conversion factor following landing page. Hence, our landing page design experts know the value of conversion very well for your business and they have industry experience (have done multiple A/B testing throughout multiple projects) in landing page design.
If we design for our business and get results, then of course, we can design for your business as well.
Our approach to design landing page for your business or product or service: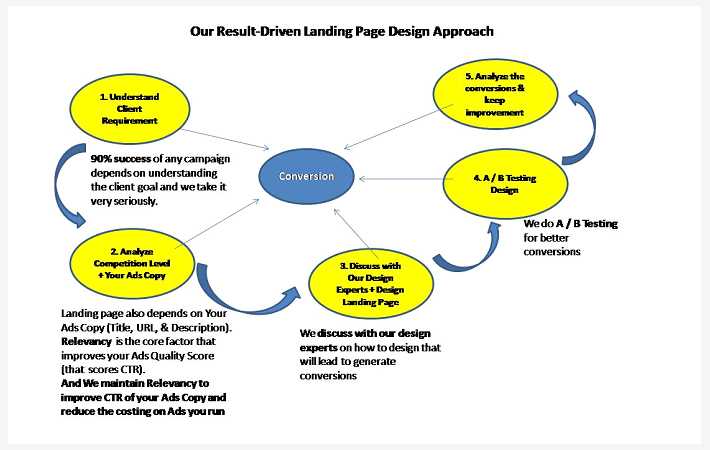 This approach has given us stunning results. Still, we are delivering results for our clients.
What will be the Landing Page Design Trend 2017?
Every year bring us a new trend relating to technology. This year has come up with collection of amazing trends that you should know.
Check out below the following infographic for better understanding the landing design page trend: ?

Why to choose our designing experts for your landing page design needs?

Where do we make differences from others landing page design companies?
To turn your visitors into conversions – the following area where we stand out from the crowd:
In-depth Research
We do research on factors that motivate your visitors to convert.
Visitor Psychology
We understand the visitor psychology by following micro-conversions principle.
Custom Design
We never use landing page templates. Never means Never. We design it according to client objective.
Apart from above, below are the other factors that make our work out of the box.
Planned Architecture
Full Responsive
Relevant Content
User & SEO Friendly Layout
Conversion Oriented
Multimedia Integration
Cross Browser Compatible
A / B Testing
Page Load Optimized
Cost-Effective Service
Why will you adopt our landing page design service?
1.

We consider every business as unique and take it very seriously.

2.

Easily approachable.

3.

Always ready to discuss on your project (Our client and his satisfaction is our first priority).

4.

Appealing and interactive landing page (depend on the nature of business goal).
How much does it cost you?
We hate giving LOW Quality Service. We believe in giving PROFESSIONAL & HIGH Quality Service. However, Cost depends on your needs. We are always ready to discuss with you on your project and love to help you grow your business.
We are just a call away. Call us today at 0120 - 4109397 or let us know your requirement here. We will reply you within 48 hours.
How to pay?
We accept payments via Online, Cheque, and Cash. For more details, please feel free to Visit Here !
If you need support, where do you need to contact?
We support our client in business working days. However, you can drop an email or feel this form mentioning your problems anytime from anywhere. We will reach you in next 24 hour (if next day is business day).
So, are you interested? How to start?
Let our 12+ experience assist you. Feel the difference.
Our expert designers will design landing page that will attract high quality conversions and help you grow your business.
Contact Us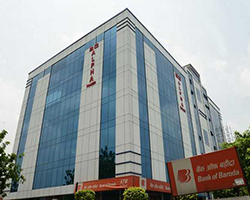 By Phone
+91 120 4109397
Head Office
(India)
SNT Infotech Pvt. Ltd.
101, 1st Floor, SG Alpha Tower Sector-9, Vasundhara, Ghaziabad (U.P) Near Sector 63, Noida 201301

s